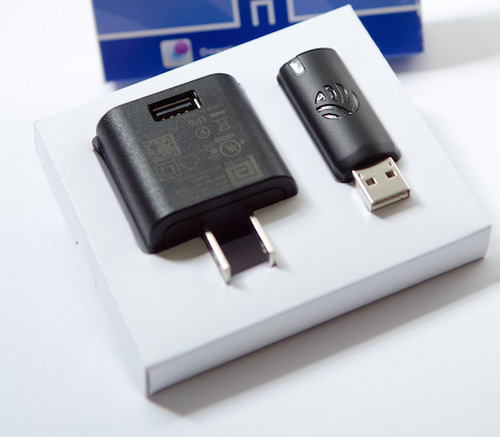 Twocanoes Labs started selling beacons about a year ago, and we just announced our next generation beacon, Bleu Station Beacon Series 200. We have deployed tens of thousands of our Bleu Station Beacons Series 100 throughout retail, commercial and educational customers. From these deployments, we learned a lot, and we took what we learned when designing and producing our next generation beacon. I wanted to post some of the process and share with you what we learned along the way.
Power
One of the items we decided early on was to keep the beacon with a USB connector for power. We heard from a wide range of our customers that they do not want to be changing batteries every few weeks. This drives up support costs and reliability. Apple defines the iBeacon specification and we decided early on that we were going to make sure that we stayed within specification so that the user experience is optimized. Having a powered beacon means that you can have great user experience and not drive up costs with the requirement to continually replace batteries.
Simple Design
Customers told us that when deploying beacons, they are not looking to make fashion statements in the look and placement of the beacons. We designed the Series 200 beacon so that it would be flexible for deployment and not disrupt the look of their current marketing. The Bleu Station Beacon Series 200 has a very muted look that is both distinctive and understated. The real magic happens in the interaction with the customer and the app on their phone. The beacon itself blends into the background, and we are pleased that we were able to create a beacon that accomplished this.
Over-the-Air updates
A potential support cost driver was updates to the software that runs inside the beacon. With the Series 200 Beacon, we are now fully support Over-the-Air firmware updates so that the beacon can be updated directly from an iOS device. And we built the functionality right into our SDK, so your own apps can easily update the firmware. This means that our beacons will stay compatible and secure for years to come.
Visual Feedback and Reset
From the very start of the design of the Bleu Station Series 200 beacon, we understood the importance of ease of use for our beacons. The Series 200 beacon features a two color LED to provide visual feedback to the person deploying the beacon and makes it simple to see what state the beacon is in with a quick glance. We also make sure that it wasn't just colors that told the state of the beacon, but also the flashing patterns so that people who are color blind will easily know the information as well. The LED is fully customizable with our software so that it can be turned off when deployed for silent operation.
Beacon Software Security
The Series 200 beacon comes standard with the most advanced beacon security. Each beacon can be configured with its own password, and the password is protected internally so that even if a device is lost or stolen, the password cannot be read out of the beacon. Whenever settings are saved to the beacon, the connection is fully encrypted. After the beacon is in operational mode, the admin service is shut down to prevent any connections to further secure the beacon. All of this adds up to piece of mind knowing that your beacons will remain fully in your control.
Backwards Compatibility
We knew that customers that purchased our 100 series of beacons would expect our new Series 200 to work seamlessly with their existing solutions. We made sure that our new beacons are fully compatible with any existing solution that uses our beacons, and made it easy to incorporate support for updates and LED configuration when you update your software.
No Hidden Fees or Middleware Required
Customers told us that a huge benefit to using Bleu Station Beacons is that there is no monthly tax to deploy our beacons. We don't require activation from a cloud service to make our beacons operational, and all the parts you need to configure and deploy beacons is provided with our SDK. The SDK doesn't have a per-user or per-impression fee so you can keep your costs low when deploying hundreds or thousands of Bleu Station Beacons.
Control over the manufacturing process
The Series 200 beacon was designed by Twocanoes Labs, and we have full control of the manufacturing process. We are proud that the beacons are assembled in the USA, and we are able to have tight control on the quality and timing of the production of the beacons. We also have the ability to customize beacons for our customers so it is now easier than every to provide customized beacons quickly to our customers.
Simple User Deployment
Customers also told us that a key advantage to our beacons is the ability to have a user plug in the beacon, and right from your own software, program the correct settings to the beacon. Our Series 200 beacon makes this process even easier. Simply include our Bleu SDK in your app, and just by plugging in the beacon, you app will detect the beacon and customize it automatically. And with visual indicators and an easy reset button, setting up the beacon is easier than ever.
Certifications
Our beacons are FCC certified, fully compatible and licensed to the iBeacon Specifications by Apple, and comply with all Bluetooth LE requirements. Additionally, our power supplies are CE and UL certified.
Available Today
The Bleu Station Beacon Series 200 is available now for order and deployment so you can start testing and deploying them today. Order them directly from us, or through your favorite reseller or VAR.