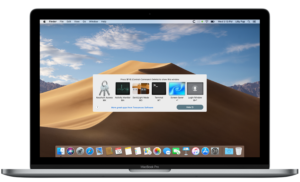 We have updated Salute, a macOS app that allows you to easily do common keyboard commands. Salute started as a way to do the "three finger salute" on a Mac. People using Windows press control-alt-delete and then press return to lock their screen. Salute takes this same idea and add some additional tasks. Aside from locking your screen, there are options to Fast User Switch to the Login Window, Open Terminal, Open Activity Viewer, and more. We added in Dark mode switching and Keychain Access as well in the updated version.
Dark Mode
Sometimes I wanted to be Dark Mode and sometimes in Light Mode, especially when testing our apps for compatibility, but also just in general usage. With Salute, switching to Dark Mode is easy.  Press the hot key (Control-Command-Delete) and then press command-d. Dark mode engaged.
Keychain Access
I use the Keychain Access a lot. My keychain has been migrated between machines since the initial release of Mac OS X. One of the features that was lost over time was the status item to open the keychain. So I added it back in with Salute. Press the hot key, and then Command-k, and BAM!, Keychain Access is now open.
Lots More
Lock Screen
Switch to Login Window
Start Activity Monitor
Launch Terminal
Learn more about it and download it for *free* at Salute page.
If you like this article and want to hear more, sign up for our newsletter or follow us on twitter.