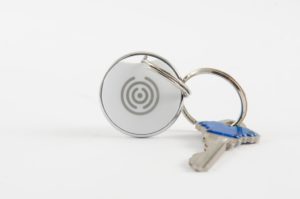 Proxidyne Button Magic button
Now you can install wireless buttons around your home, office or car that control your apps on your iOS devices and trigger web services such as IFTTT and Zapier to send messages, start & stop music & timers, record counts so you don't have to, and tell other apps to do what you want done!
Install our free Button Magic app and order $29.95 Button Magic wireless buttons from Proxidyne to get started today!
Button Magic makes it easy to control your iPhone without taking it out of your pocket.
Encourages responsible hands-free communication such as sending the message "I'm driving now and will respond to you later" or "I've just left the office and I'll be home at the usual time."
Helps athletes, trainers and coaches by making it easy to use buttons to start/stop timers and record repetitions
Simplifies repetitive tasks like counting quantified-self activities such as "I drank a glass of water" or "I did my physical therapy exercises".
Start/stop an app such as iTunes or timers.
Works with many home automation systems and products so you can turn on and off lights and appliances
Send any commands to any app via that app's URL scheme
Send messages and start automated tasks via IFFTT, Zapier or other web services systems
Count attendance, occurrences, and other things by creating rows in Google Sheets or other services via web services calls
Add to your app or web services offering with a free API available to developers
Configure Button Magic app
Button Magic uses Bluetooth Low Energy (BTLE or BLE or Bluetooth Smart) so no pairing is required. This means that the same button works with everyone's iPhones but the app must be configured separately on each iPhone. Button battery life should exceed 1 year for most users.
Button Magic uses the Apple iBeacon standard so there's no background app and no additional battery usage on your iPhone.
Button Magic triggers actions configured in the iPhone app making it different from other buttons such as the Amazon ® DASH ® button, the FLIC ® button and the other wireless buttons from Proxidyne ®. The Amazon DASH button connects via WiFi to the Internet and triggers actions configured in the Amazon cloud limiting its use to locations with WiFi and preventing it from directly triggering actions on your iPhone. The FLIC button uses Bluetooth and pairs with a single phone. Button Magic uses the Apple ® iBeacon ® standard so it does not require pairing so that a single button can control actions on all of your iPhones, iPods and iPads. The Proxidyne wireless buttons connect the the Proxidyne Bridge or to LoRaWAN applications.
To confirm that Button Magic is right for you, please visit our forums or call Twocanoes.
Links