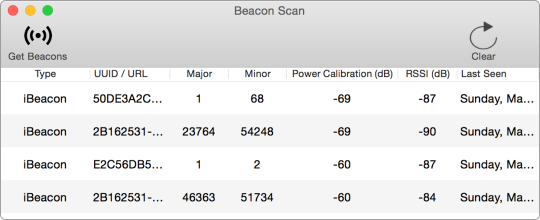 Beacon Scan is a macOS app to find any iBeacons or Physical Web beacons. It requires a Mac with Bluetooth LE and 10.10 (Yosemite). Just launch and it will start showing nearby beacons. You can copy the UUID or other data for easy pasting into apps.
Download it here. We'll have a fancy product page up soon, but thought it would be nice to let folks start using it.
Oh, and it is FREE (though I encourage you to buy some of our beacons to support us).
Also, if you want a command line tool to find nearby iBeacon and Physical Web Beacons, that would be here.