Certificate Request
Get Digital Certificates for macOS from Active Directory Natively
Try Certificate Request for 14 Days!
Fill out this form to download your 14-day trial with a license key. You will receive an email with links to download the software.
Certificate Request from Twocanoes Software
Certificate Request is a powerful utility for the Mac that allows you to request and install digital certificates directly from Active Directory. This utility automatically discovers all the required information from Active Directory, once you have obtained a kerberos ticket; then, requesting a digital certificate can be as simple as clicking a single button. The digital certificate can be used for configuring wireless, Mail, VPN, and many other services on macOS that require certificates issued by Active Directory.
User Guide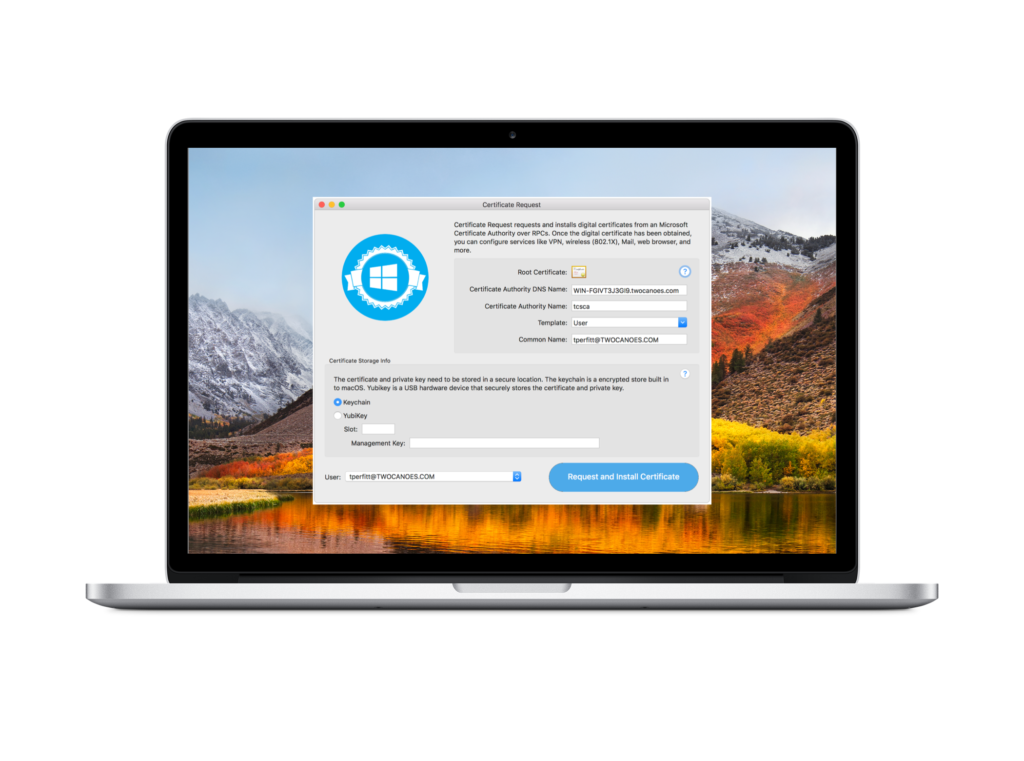 Native Requests
Certificate Request doesn't require any changes to Active Directory. Certificate requests are sent over standard Windows protocols (DCE/RPC).
Active Directory binding not required
Certificate Request uses Kerberos to authenticate with Active Directory and doesn't require the Mac to be bound to Active Directory. If the Mac is bound, Certificate Request can use the existing kerberos credentials from login to request a certificate.
Smart
Certificate Request automatically discovers all of the Active Directory information that is required, including the name of the Active Directory Certificate Authority server, the Certificate Authority name, and all available certificate templates. Certificate Request downloads the Active Directory Root Certificate automatically and makes it easy to configure the Mac to trust it.
Keychain or YubiKey
Certificate Request installs digital certificates directly to the standard macOS keychain or YubiKey hardware encryption device. The private key never leaves the keychain or the YubiKey, so it is secure.
Advanced Authentication
Certificate Request automatically detects if a login has already occurred and if there are kerberos credentials available. If there are multiple credentials available, Certificate Request gives the option to select the appropriate one; Certificate Request can also purge all credentials. Certificates use SHA512 hashing and 2048 bit RSA keys.
Multiple Template Support
Since digital certificates can be used in many different services, Active Directory bundles the settings into Templates. Certificate Request shows all available templates on the Active Directory server and makes it easy to select the appropriate one for the service you require (e.g., VPN, Mail, Wi-Fi, etc).