About a week ago, we released a new utility app for iOS called Guest Pass that let's you create a configuration for your wireless network and email the configuration to a friend or colleague. Once the person receives the configuration on their Mac or iPhone/iPad, they will have access to your wireless network until the configuration expires. They don't have to enter a password, SSID, or do anything. It will just connect. We think it is a pretty cool idea, and have gotten some positive feedback. I asked for some feedback on pricing on twitter, and it was wide ranging. In order to promote the app and figure out pricing, I want to do a few experiments to figure out the best approach for us and for this app.
The app store is noisy. Crazy noisy. We have tried a bunch of different ways to promote our apps on the app store in the past, but I wanted to take a single products and each week make a minor change in how we promote the app.
When the app went live in the app store, I tweeted out the link to my 500 followers. I also gave out about 20 codes to download it for free, all of which were redeem since it was people I engaged with directly. The app is currently priced at $4.99, which seemed like a good introductory price. The day I gave out 12 redeem codes on twitter has been the best day so far, but I am not sure if that is because it was new or due to the codes. I suspect the former, since we had a good day when we were mentioned by one of our friends on Facebook. We don't know that the Facebook mention was the reason specifically, since we don't currently have a way to see referrer links to the app store to download, but seems likely.
Anyways, here are the initial sales figures: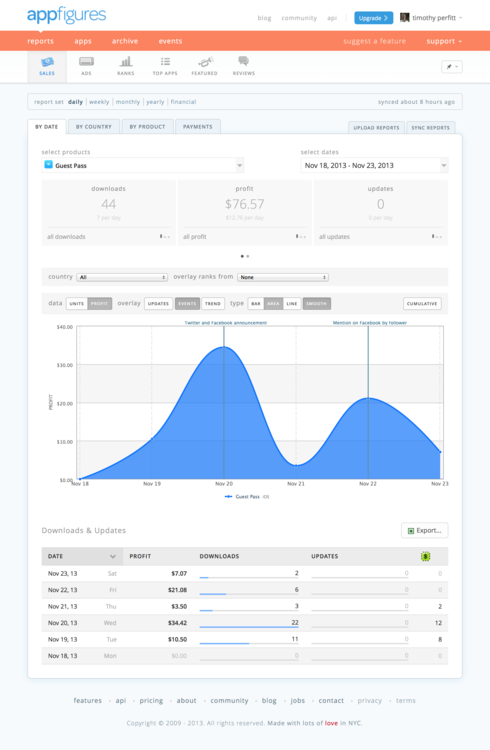 To figure out the optimum way to promote and price, we are going to be trying the following for a week each time:
1. Promoted Twitter
2. Facebook Ads
3. Google Ad Words
4. iAds
5. Lowering and raising price to figure out price elasticity to this product.
I want to space each of these initiatives out so that we can see the specific impact that each has. I'll report back each week on the results. Leave some comments if you have suggestions on some testing we can do, and we'll see the impact.