At a Glance
The Event
The MacAdmins Conference is a four-day gathering of systems administrators interested in deploying, managing, and securing Apple products and services. It's held every summer on the Pennsylvania State University campus in State College, PA. The 2014 event had 477 attendees.
Before (2013 event)
Manual conference attendee sign-in
Labor-intensive and paper-intensive registration lines
Session and venue updates via email and signage
Paper feedback-survey forms
After (2014 event)
Automated sign-in using iPhones, Apple Passbook, and Bleu Stations
Session and venue updates via Passbook alerts and beacons
Electronic feedback reminders and forms
Results
3–4x faster badging process, with no printouts required
95% of attendees preferred electronic updates and forms to manual
Dynamic, rolling session schedule updates sent to attendees
Announcement notifications pushed out to iPhone lock screens
Successful state-of-the-art technology demonstration
The Challenge
Large conferences have a lot of moving parts. Not only do hundreds of registered attendees need to be efficiently signed in and credentialed: they also need to be kept informed of the inevitable speaker, session, and venue changes that occur throughout the conference itself. Conference organizers crave feedback on session quality and interest. Exhibitors work to gather contacts and distribute product information easily to attendees.
As sessions begin and end, and exhibits open and close, smooth mass transitions are critical to the successful conference experience. Accurate, available, and appropriate information keeps attendees on track.
Suppose, mid-conference, a facility requires that a panel discussion move to a new room. How do conference organizers get that news out promptly and efficiently to enrollees? How do Web services and ubiquitous mobile devices tie into the solution? Reprinting and distributing calendars is impractical, and attendees don't often check email frequently through the course of a session-intensive day.
To creatively address these issues, the MacAdmins conference planners turned to technology from Twocanoes: Apple iBeacon-compliant Bleu Stations: these are tiny, configurable Bluetooth radios that broadcast micro-location proximity information to beacon-aware apps on nearby mobile devices. Using Passbook passes in conjunction with automated back-end processes to keep information on the pass up-to-date, users had only to view the pass to see the most current session information. When in proximity to a Bleu Station beacon, attendees could receive timely alerts through push notifications.
"We have enough to worry about just organizing the show. It was great to be able to rely on Twocanoes to handle the Web services integration."
Dave Test
Group Leader of Technology Classrooms, Classroom and Lab Computing, Penn State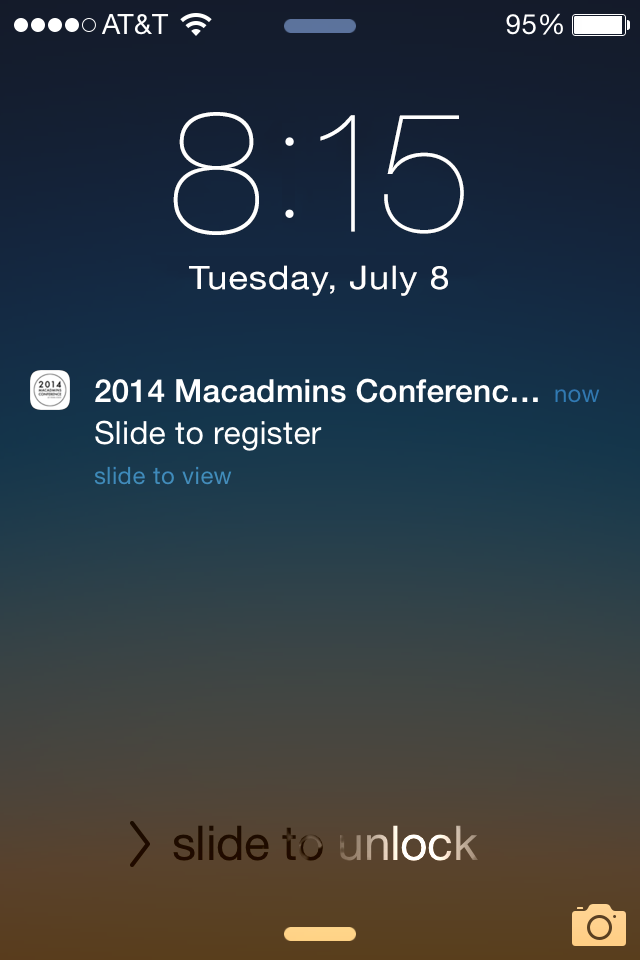 The Solution
Before the show began, each attendee received a welcome email that prompted them to download a customized "ticket" to the iPhone's Passbook app. At registration time, attendees simply displayed the pass' unique QR code to gain entry. (After observing that attendees checked their phones long before reaching the registration desk, the Twocanoes team moves the first Bleu Station 300 feet down the hallway.)
Throughout the conference, current and upcoming session information was pushed to the pass, ensuring that all participants had the most current information at all times.
Also, important announcements and last minute schedule changes were pushed to mobile device lock screens in areas equipped with beacons, ensuring that the message was received by only those who needed it.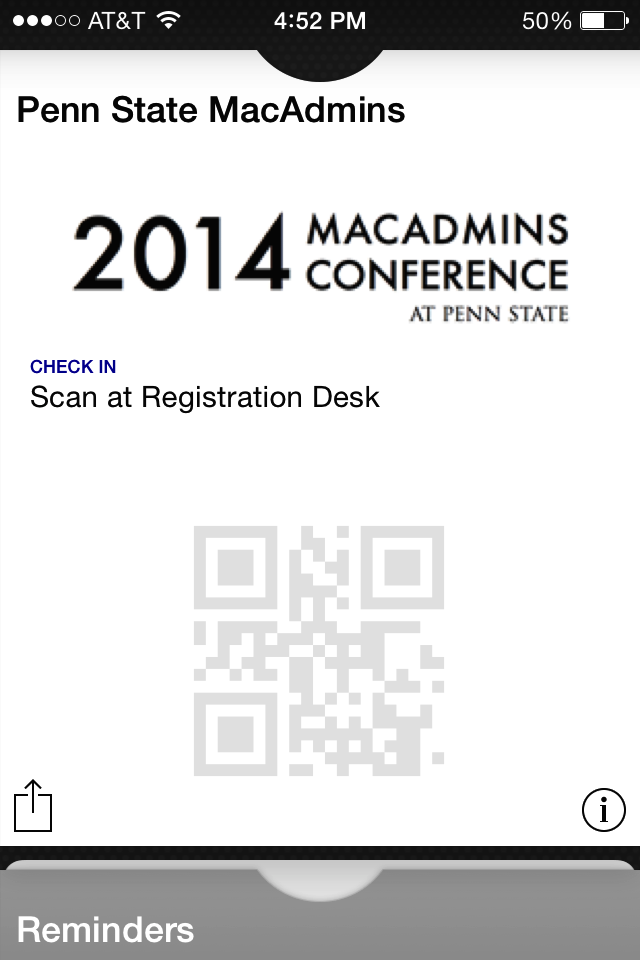 Online conference-scheduling system Sched managed conference scheduling and fed changes directly into the Twocanoes conference platform.
Reminders to complete feedback forms were automatically pushed to participants in beacon-enabled session areas. Ten minutes prior to the end of every session, an alert prompted attendees to complete an online evaluation of the speaker, topic, and content—and reminded them when and where their next session would begin. Participants who were not attending a session at that time did not receive the reminders, only those who were in the beacon-enabled sessions.
In the Exhibit Hall, attendees passing by booths received invitations that they could choose to accept. Those who wanted to learn more about Twocanoes, for example, could download a branded pass with contact information and links.
(On the drawing board: More ways for attendees and exhibitors to interact, venue navigation assistance, and native white-label apps as an alternative to Passbook—all enabled by Bleu. Contact Twocanoes Software to learn more.)
The Results
MacAdmins took a risk in piloting Bleu Stations at their 2014 conference but declared it an unqualified success. In fact, planning has already begun to extend their utility during next year's event.
Manual registration that previously took up to two minutes per person was streamlined to 15–30 seconds each. What used to require four staffers at the Registration Desk was handled by two.
Printing out confirmations, evaluation forms, and schedule changes consumed 20 reams of paper during the 2013 conference. In 2014? Zero reams.
In a post-conference survey, fully 95% of attendees said they were pleased with the Bleu Station implementation.
Recalling the conference, Dave Test says, "Working with Twocanoes was a pleasure. They know their technology inside-out, and they really care about their customers. We're definitely planning on going to them for next year's conference."