Smart Card Utility Desktop Reader Quick Start
In order to get up and running to authenticate to a website, there is some setup that needs to be done. Many Department of Defense websites requires specific Root and Intermediate certificates be installed. We have created a profile to make this easy to install. You then install the software and read in the certificates from your CAC / Smart Card. Finally, you can test authentication on our test website.
Installing Root and/or Intermediate Certificates
For US Government and Military Personnel, websites require the DoD root and intermediate certificates. To install the certificates, download the certificate profile:
Once you've downloaded the Profile, install the Profile on your device:
Open your Settings App and Tap "Profile Downloaded":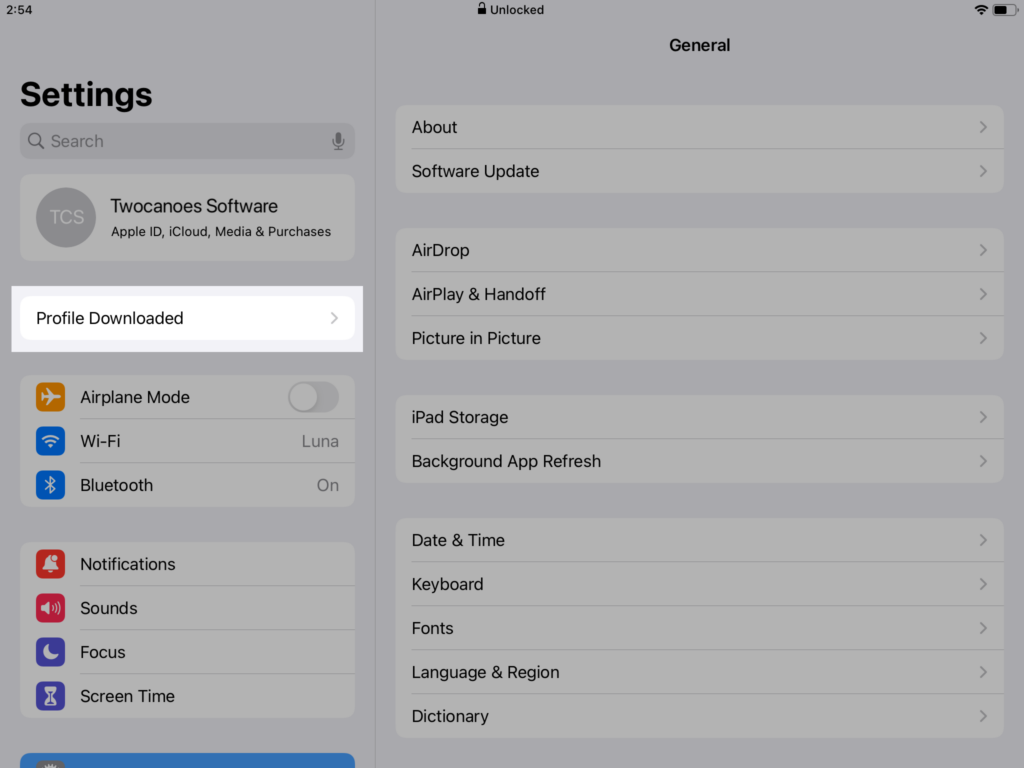 Follow the instructions to install the profile and certificates.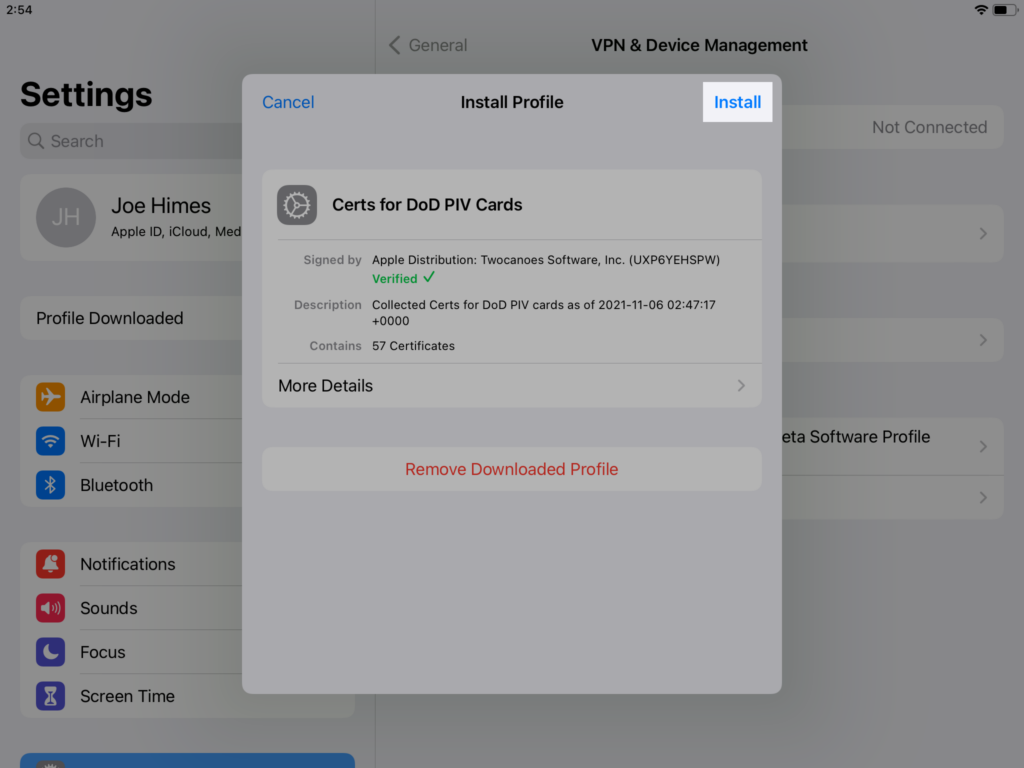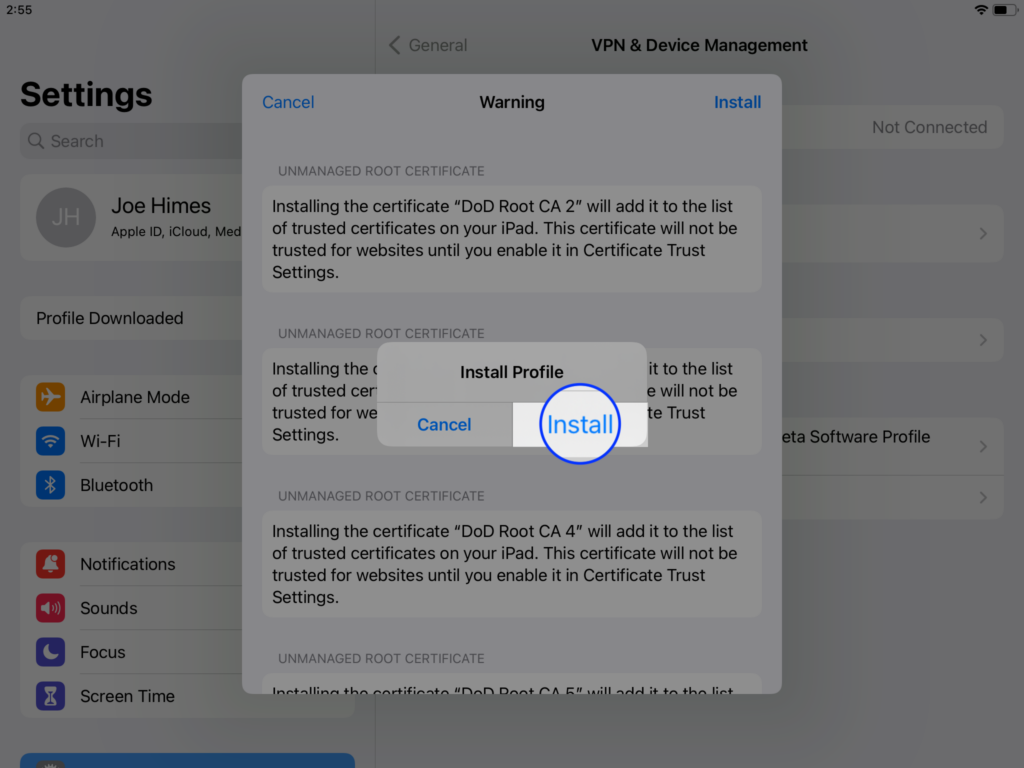 Download Smart Card Utility
Though you have the necessary hardware, it's important to download Smart Card Utility on your iOS or iPadOS device. To download Smart Card Utility, search for "smart card utility" in the App Store.
Tap "Search" in the bottom-right corner, then use the search bar at the top to search for Smart Card Utility: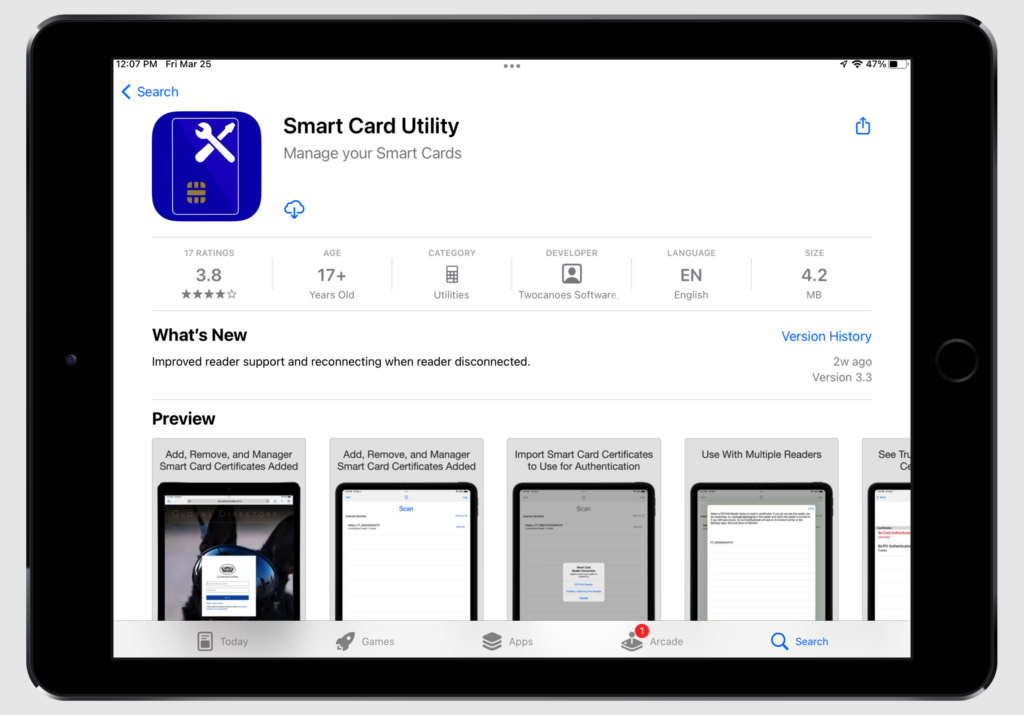 Tap "Get" to download.
Once the app completes downloading, open it to continue your setup:
Complete Initial Setup
Before jumping in to using Smart Card Utility, you must first complete Initial Setup of the app. We'll take you step-by-step so you don't miss a thing.
Opening Prompts
When opening Smart Card Utility, you'll see these prompts. Swipe through the first two prompts and Tap "Let's Go!" in the last one to enter the app.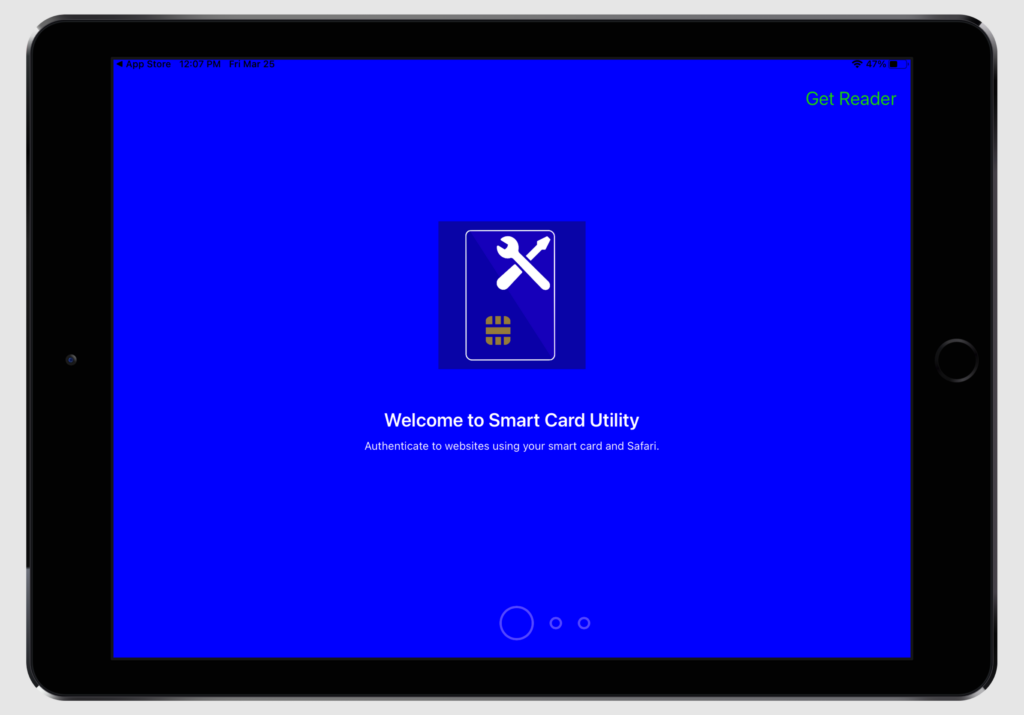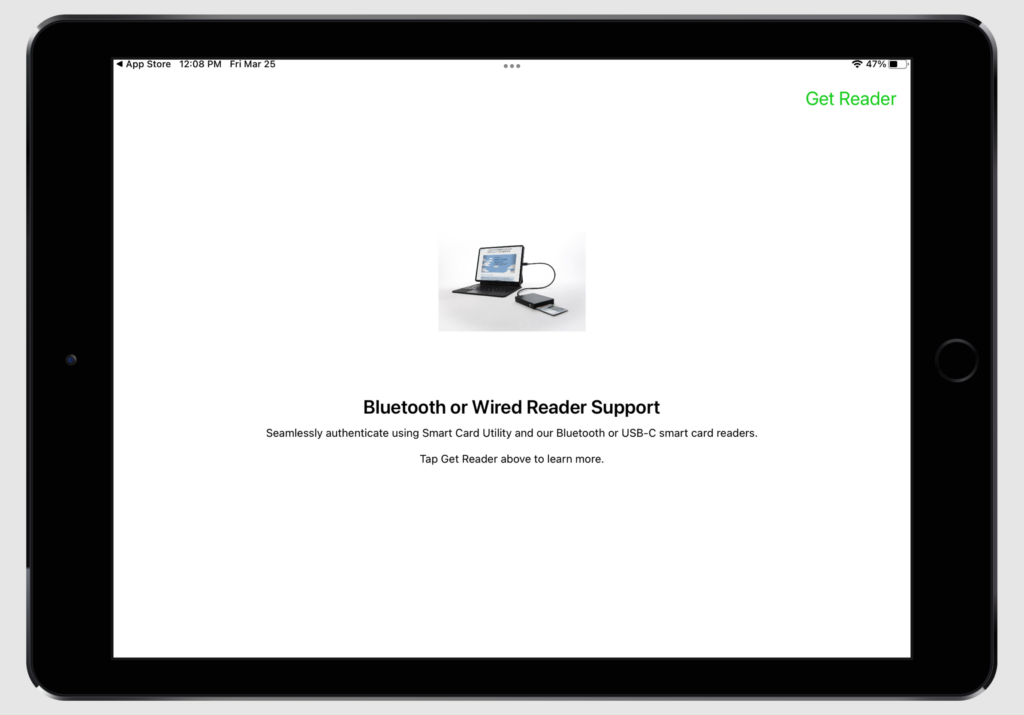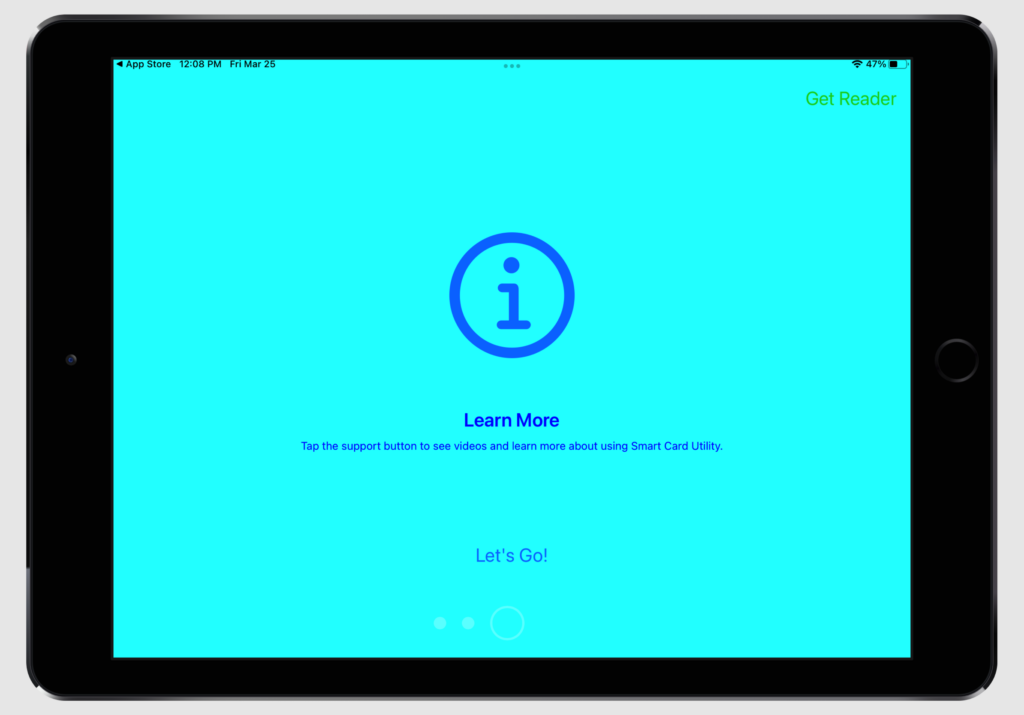 Enable Notifications
Next, you'll see a prompt for Notifications. Make sure to tap "Allow" to enable Status Updates. Local push notifications are sent when you are using your smart card to give you informative and error messages.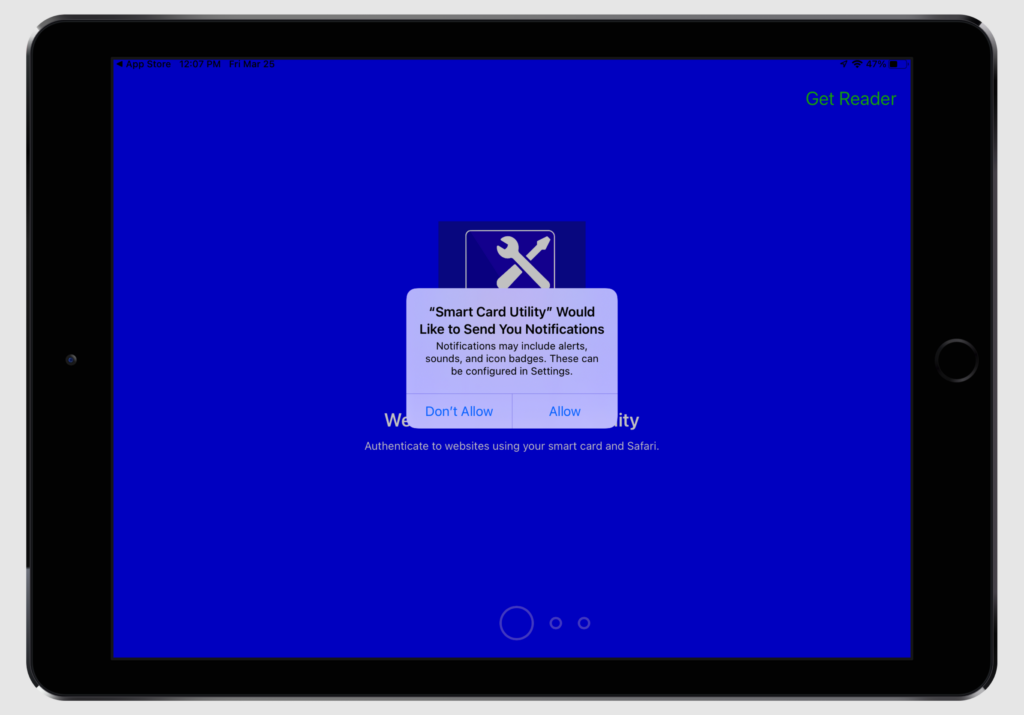 If you tap "Don't Allow", see the Notifications section of our User Guide for instructions on how to allow them in your Settings.
Smart Card Utility Desktop Reader
The first section shows the connected reader; the second section shows certificates available for use in iOS. To manage the reader or read the certificates directly, tap the reader name in "Connect and Added Readers". The reader view will open and show the certificates and other options on the reader page: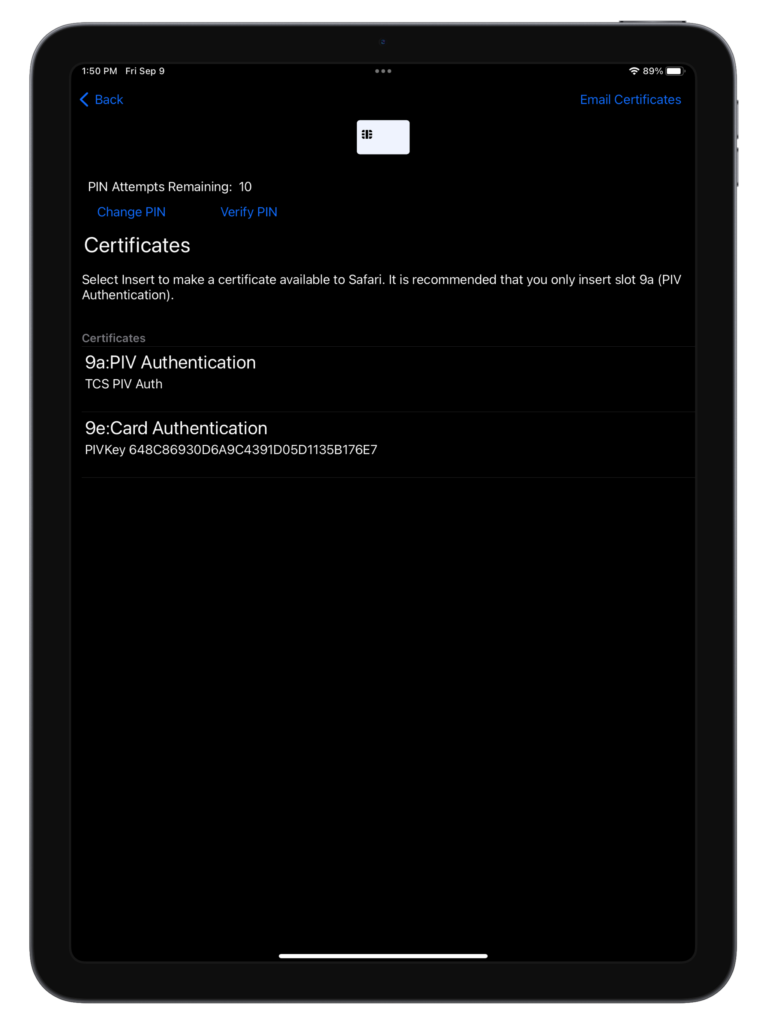 From the reader info view, you can see the inserted certificates. You can tap on the certificates to view details. You can also verify the PIN and change the PIN by tapping the appropriate button.
Testing
You can do this easily with the Test button in the center of the bottom bar of Smart Card Utility, which will redirect you to the "Smart Card Utility Test Links" page.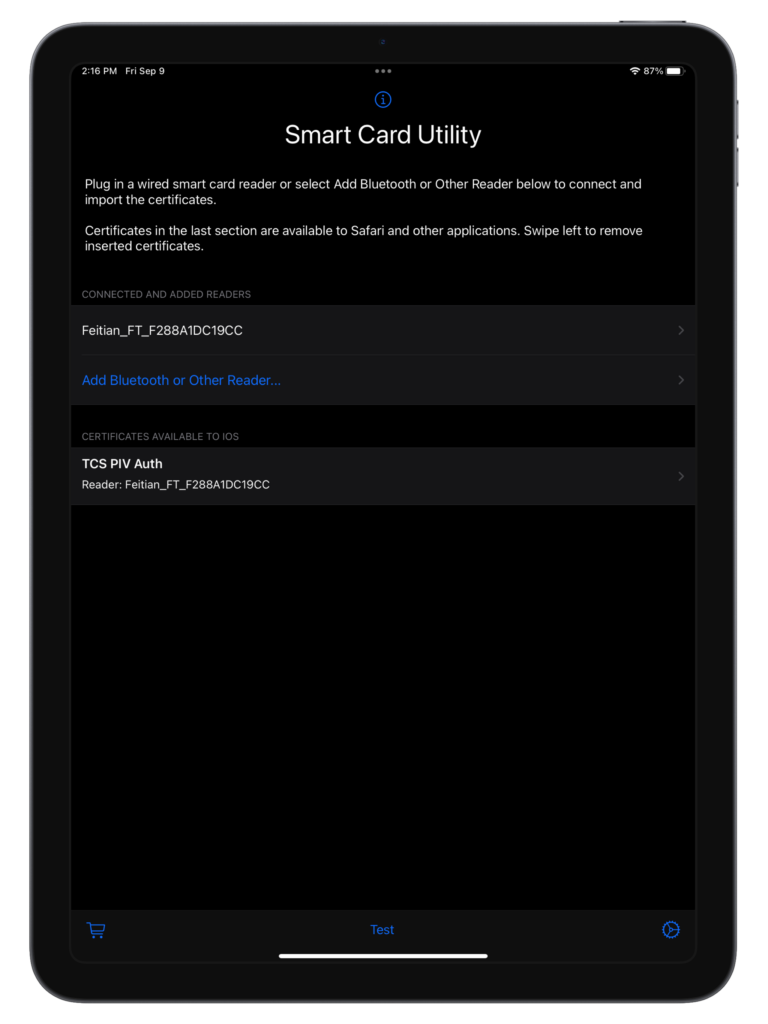 A list of test links will be shown. Select the first link and verify that you can authenticate with that website.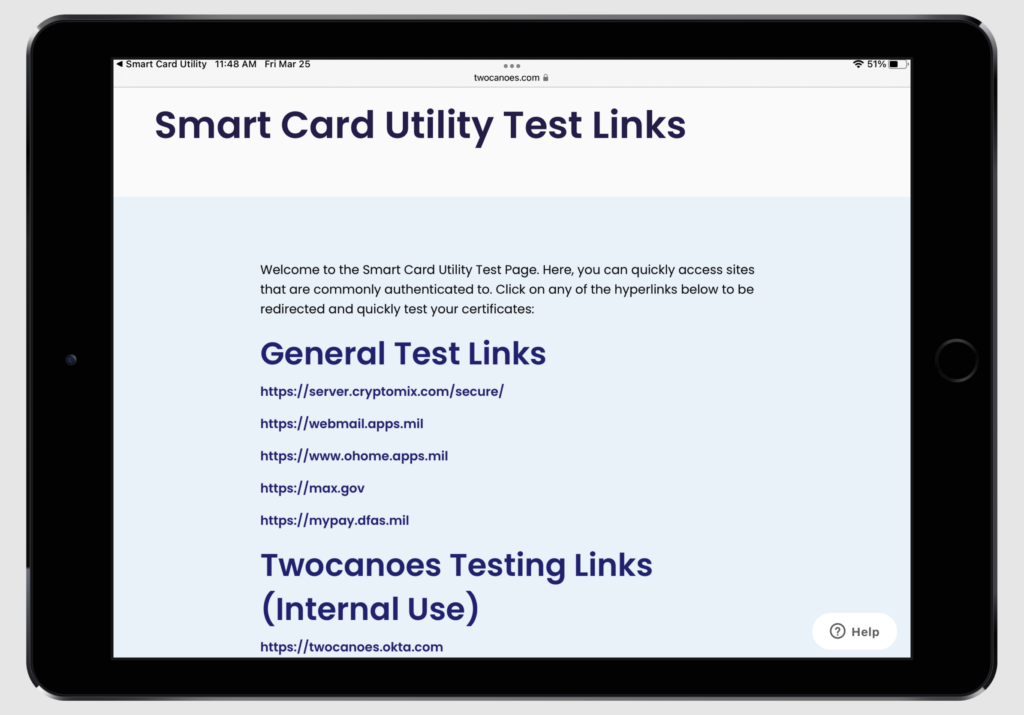 When prompted for your PIN, make sure the reader is turned on and your smart card is inserted into the reader.
More Resources