Thank you for purchasing a Twocanoes Hardware Package! While Smart Card Utility has a User Guide that you can access, this Quick Setup Guide will help you begin use immediately.
1. Download Smart Card Utility
Though you have the necessary hardware, it's important to download Smart Card Utility on your iOS or iPadOS device. To download Smart Card Utility, search for "smart card utility" in the App Store.
For iOS, tap "Search" in the bottom-right corner, then use the search bar at the top to search for Smart Card Utility: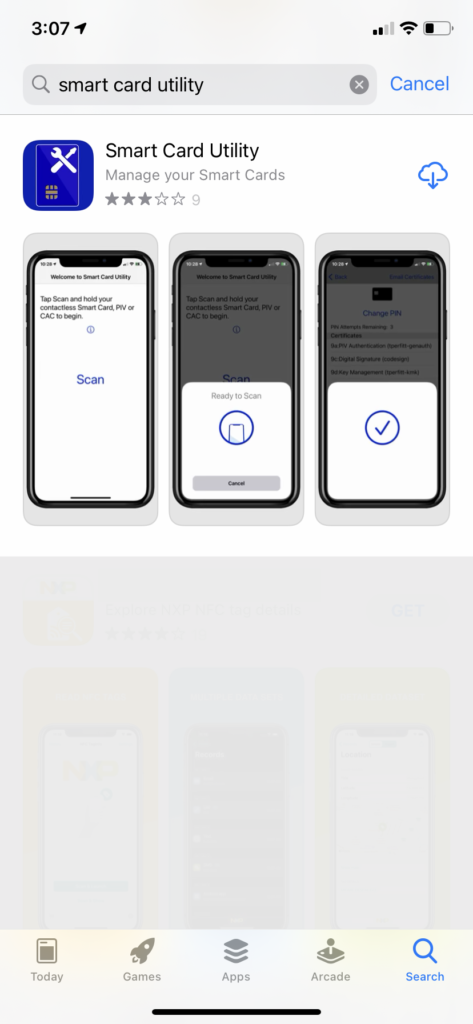 Click "Get" to download.
For iPadOS, the same is true. Tap "Search" in the bottom bottom-right corner, then use the search bar at the top to search for Smart Card Utility: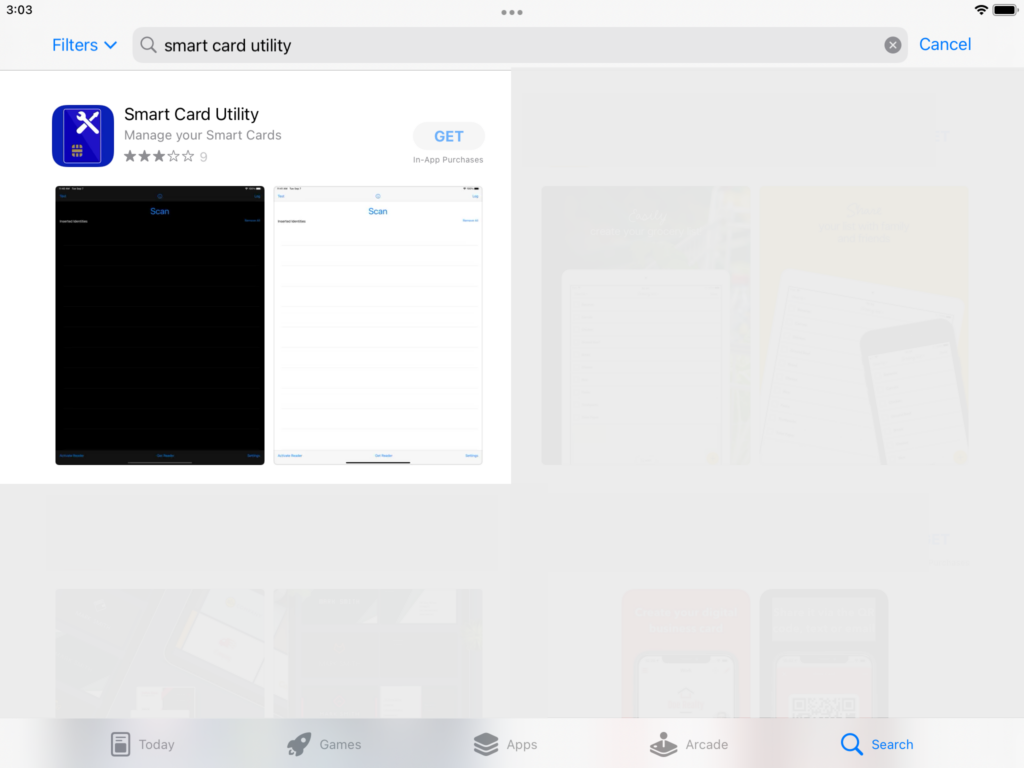 Once the app completes downloading, open it to continue your setup:
2. Complete Initial Setup
Before jumping in to using Smart Card Utility, you must first complete Initial Setup of the app. We'll take you step-by-step so you don't miss a thing.
Opening Prompts
When opening Smart Card Utility, you'll see these prompts: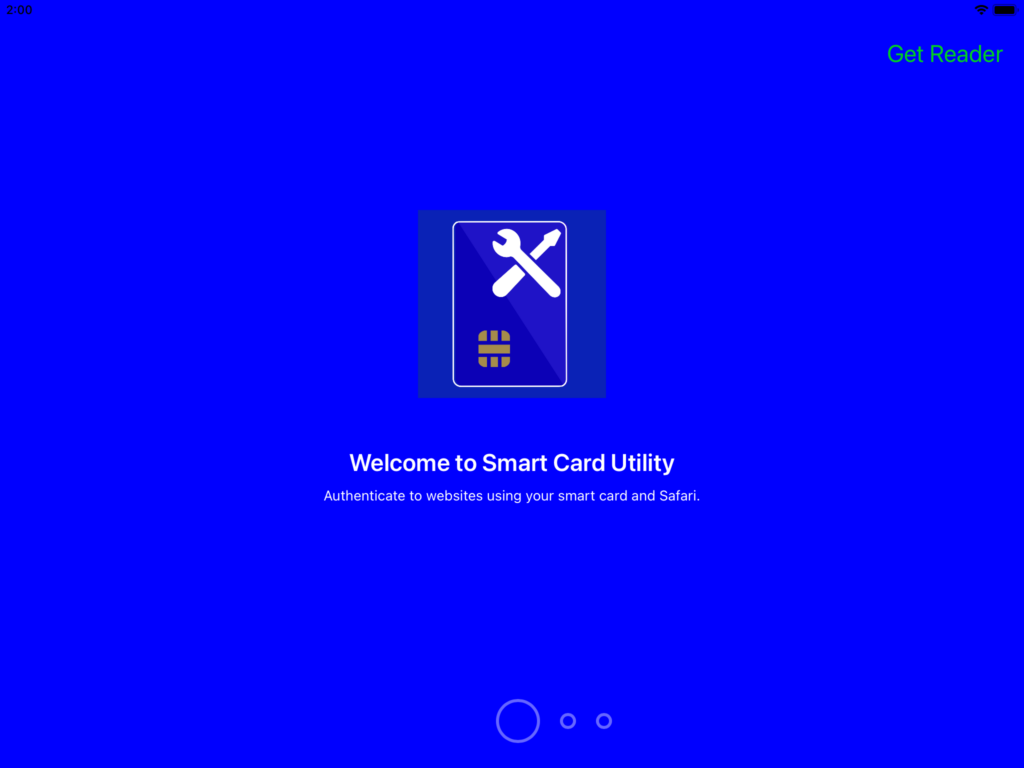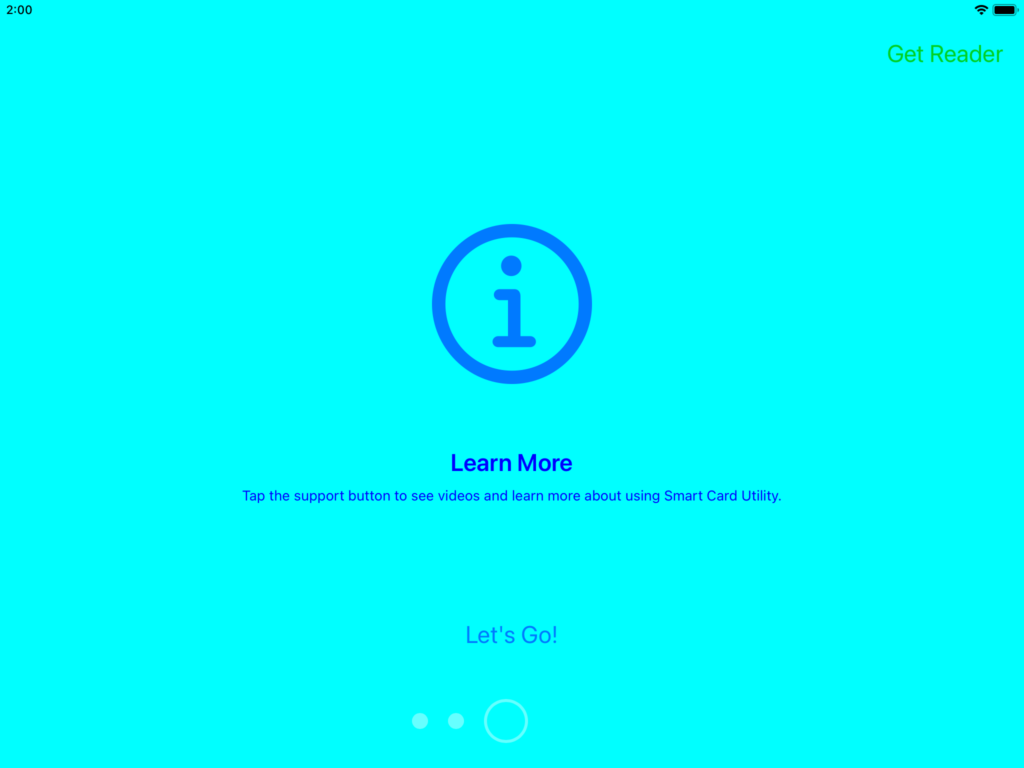 Swipe through the first two prompts and click "Let's Go!" in the last one to enter the app.
Enable Notifications
Next, you'll see a prompt for Notifications: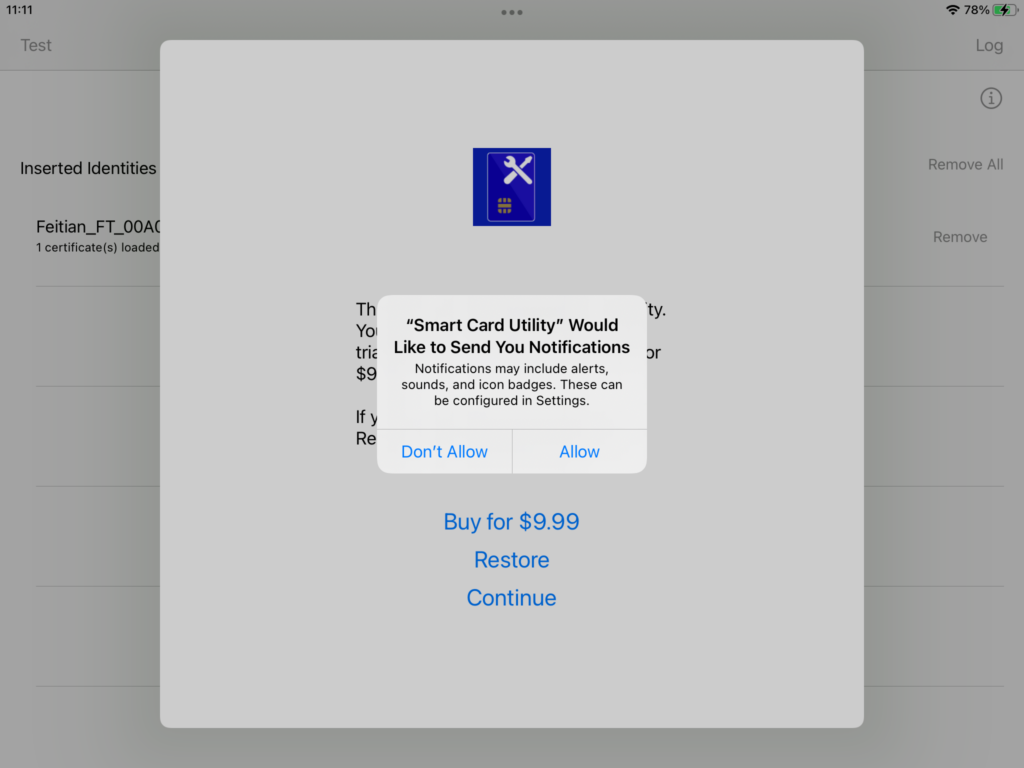 Make sure to click "Allow" to enable Status Updates about your Twocanoes hardware purchase as you use it on your device.
If you accidentally click "Don't Allow", see the Notifications section of our User Guide for instructions on how to Allow them in your Settings.
Trial/Purchase Panel
Since you've already purchased a Smart Card Utility reader through Twocanoes, you do not need to complete the in-app purchase to end the free trial. However, the trial/purchase panel will appear at startup as the Reader is not yet Activated. Tap "Continue" or swipe away the panel to reach the Main Interface for Reader Activation:
3. Activate your Reader
Once you tap "Continue", you'll be redirected to the Main Interface. Tap "Activate Reader" in the bottom-left corner: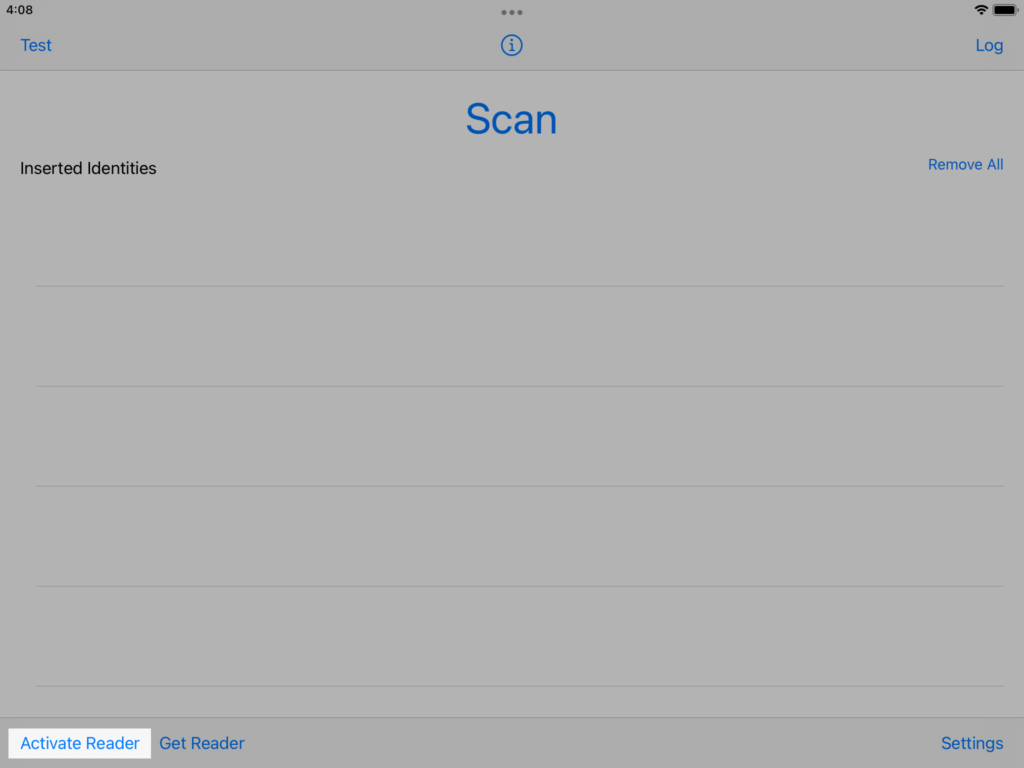 Once tapped, a prompt will appear to enter your activation code: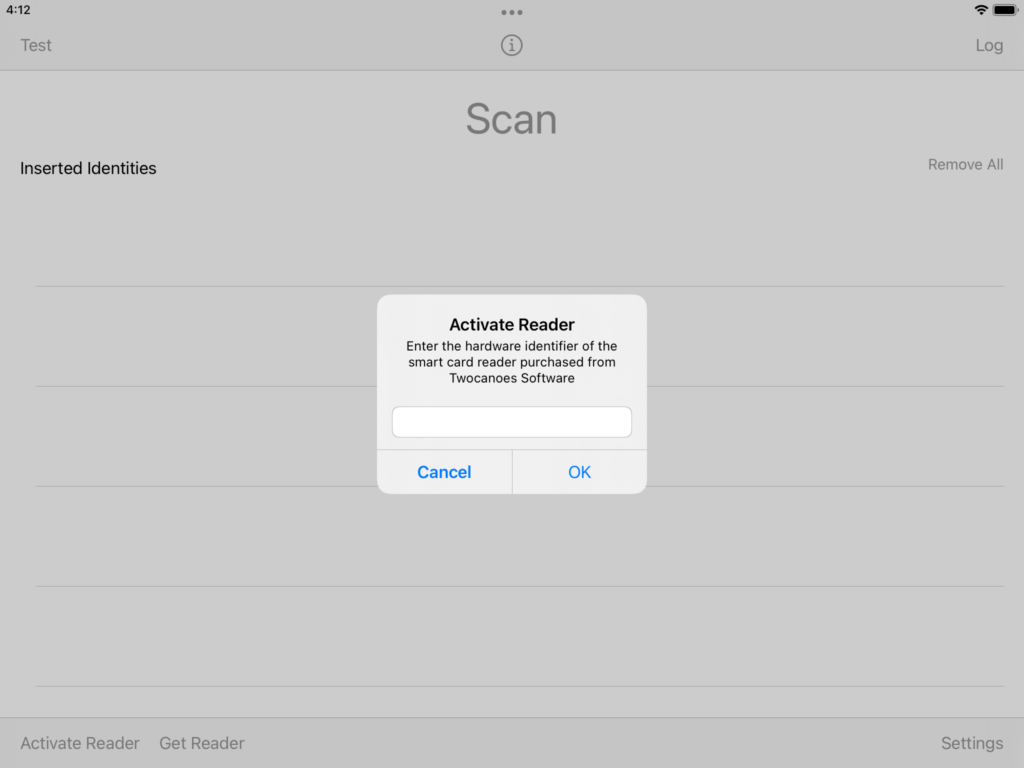 Here, type in the code included with your purchase. Then, tap "OK":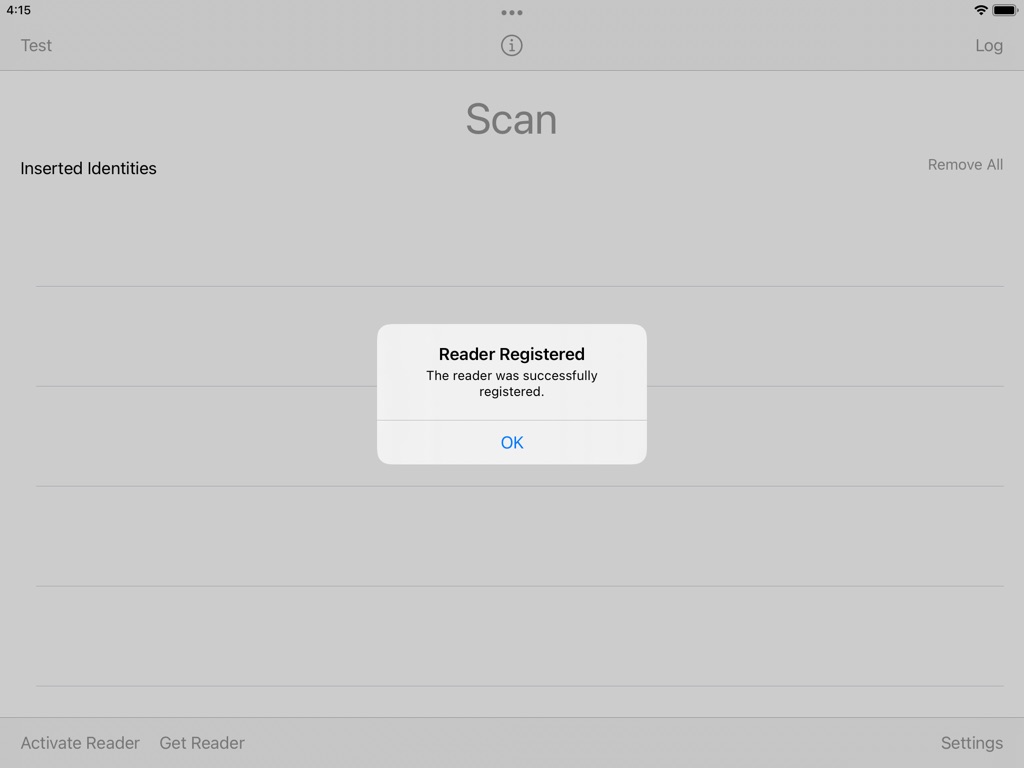 A confirmation should appear if entered correctly. Tap "OK" to be redirected to the Main Interface to start your Scan. Unless Prompts are Reset in Settings, this is the only time you need to Activate your reader.
If typed in incorrectly, you will receive an error message: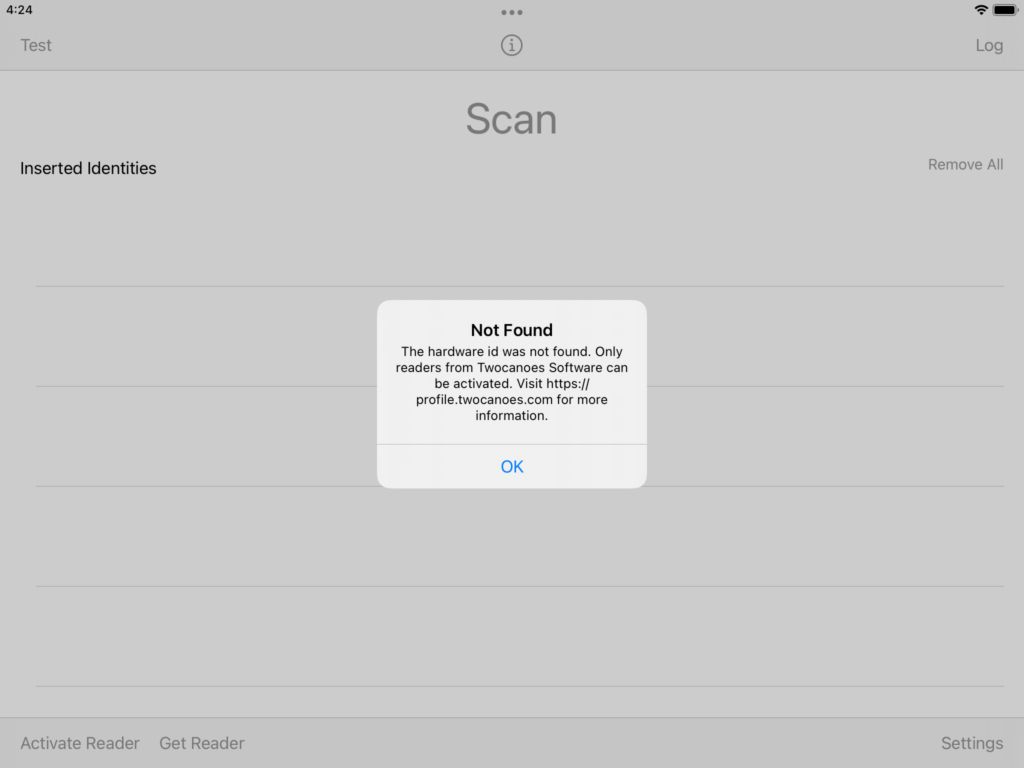 If this message appears, tap "OK" and try these steps again, making sure all characters are entered correctly.
4. Scan your Certificates
Now that you've successfully registered your reader, you can now Scan your Certificates into Smart Card Utility without interruptions from the Trial/Purchase panel. Full instructions on Scanning are available in the Scan section of the User Guide, but this Quick Setup guide will provide condensed instructions for Scanning so you can start using Smart Card Utility right away.